Qwaq Forums : l'open space projet virtuel !
Si vous recherchez désespérément une salle projet pour réunir votre équipe,
Qwaq Forums
vous en propose une, virtuelle !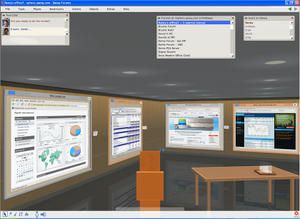 Je n'ai pas encore pu tester cette solution : j'attends toujours que l'éditeur me contacte.

Il semble que Qwaq soit orienté vers les plateaux projets virtuels ou la communication interne/externe (?), plus que vers la web conférence.


(via Fred Cavazza)

----------------------------------------------------------


Voici un extrait du site web de l'éditeur, qui donne une meilleure vision des possibilités :



Designed for Collaboration
Qwaq Forums is designed for collaboration. Whether you are working internally with other team members and groups, or need to collaborate with supply chain partners or customers, Qwaq Forums has powerful features that simplify setting up and working in highly collaborative environments.
Content. Content is easily made available to users; simply drag and drop content from your local folders or desktop into Qwaq Forums and it will be automatically uploaded and made available to other users. Using Qwaq Multi-Share™, multiple users can edit content together within a virtual space. Once a work item is completed, content can be saved to your local desktop or folders for further processing.
Presence. Unlike traditional 2-D collaboration environments, Qwaq Forums' 3-D environment provides strong feedback on where users are focusing and what users are working on. Using avatars and a unique "laser pointer" makes it easy to see where people are, what they are looking at, what content they are editing and how they are using applications. In combination with Qwaq Forums' built-in high fidelity VoIP and text chat, users have a highly immersive environment and important social cues that help them work more effectively.
Context. A Qwaq Forums workspace provides a simple ways to link and associate content. Whether using drag-and-drop to link virtual spaces or simply choosing the spatial relationship between content in an existing space, users can establish areas of focus for collaboration.
Persistence. The virtual spaces in Qwaq Forums are designed to be dynamic and evolving. Users can save the state of a Qwaq Forums virtual space at any time. The saved state includes any editing made by users to documents or content in the space; for example, if you had been working on a budgeting spreadsheet, any changes you and other users made to that spreadsheet would be saved along with the rest of the state of the virtual space. This capability provides a powerful way for users to work on projects that cannot be completed in one session and allows them to leave incremental work updates for each other when working asynchronously.
Powerful End User Features
Simple virtual workspace creation. Create meeting rooms, offices, lab rooms or other indoor spaces from existing room templates. The templates provide ready-to-use rooms that can be used right away or further customized. Use the Qwaq Virtual Campus™ to create outdoor spaces. All spaces can be linked together using drag and drop commands.
Drag and drop content import. Share Microsoft Office documents created with Word, PowerPoint and Excel; Adobe PDF files, images, and even 3-D content by dragging from local folders into a Qwaq Forums virtual workspace.
Qwaq Multi-Share™. Qwaq's unique fine-grained sharing control lets multiple users edit a document or use an application GUI in an intuitive manner at the same time. All users see edits in real-time.
Par Fabrice Poiraud-Lambert
Pour être informé des derniers articles, inscrivez vous :